Commercial Waste Solutions
Billing cycle: All of our customers are maintained on a bi-monthly billing cycle. The cycle will include the previous month of service and the upcoming month of service. New customers will have pro-rated services.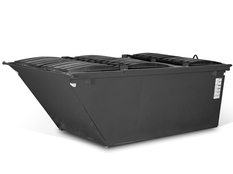 Dumping container service: For our commercial customers, we provide weekly and biweekly dumping container service. This service includes the delivery of 4, 6 or 8 yard dumping container, the weekly or biweekly waste removal as well as maintenance of the container. Please note 8 yard dumping containers as a special order, therefore please provide advanced notice for this product.
Commercial dumping containers are charged a "tipping fee" as set by the Patrick County Transfer Station. Tipping fees are weight based and charges are applied monthly. Below you will find the tipping fee schedule.
Weekly waste removal:
4-yard (108 cu. ft.): $65.00/week

6-yard (162 cu. ft.): $92.50/week

8-yard (216 cu. ft.): $115.00/week
Biweekly waste removal:
4-yard (108 cu. ft.): $65.00/week or $55.00/biweekly
6-yard (162 cu. ft.): $92.50/week or $86.50/biweekly
Tipping fee schedule ($55.00/ton):
50lbs/week - $5.96/month
100lbs/week - 11.92/month
150lbs/week - 17.87/month
200lbs/week - 23.83/month
350lbs/week - 41.70/month
---
---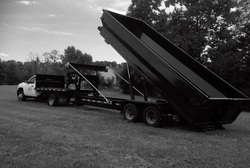 Roll-off services. Roll-off dumping trailers are here! This 18-yard container is an ideal waste solution for both small and large projects! Call today to reserve yours!
Delevery distance fee schedule:
0-15miles: $50.00
15 or more miles: $100.00
Dumping fee schedule
Rental charge:
---